Volume III
International Sports Law Review: Pandektis
I.S.L.R. Pandektis table of contents: Volume III (1996)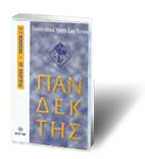 Volume III
numbers 1, 2, 3, 4
This books may be supplied by: Leader Books
17, P. Kyriakou str., GR-11521, Athens, Greece
tel.: +(30) 210 6452825, +(30) 210 6450048
fax: +(30) 210 6449924
e-mail: info@leaderbooks.com, internet: www.leaderbooks.com
Index I : Studies - Research
Robert N. Davis, "Ambushing the Olympic Games"
Olli Rauste, "Commercialization of sports associations activities"
James Nafziger, "Resolving Disputes over financial management of professional athletes: English and American experiences"
Athanassios Houvardas, "Homo Economicus Athleticus"
Louis Pettiti, "Les droit et la securite dans les stades"
Taoufik Zahrouni, "Du reglement des litiges inherants a la pratique des activites physiques et sportives en Tunisie de 1956 a 1994"
Lucio Colantuoni, "La sponsorisation et le merchandising sportif en Italie"
Maria L. Papathanassiou, "The 50th U.N. anniversary and the International Olympic Movement"
Pekka Oja, Raija Mattila, Ronald Kramer, "Significance of sport for society - How can sport and physical activity support the well-being of Europe?"
Jose Manuel Meirim, "The Sports Act and the professional sports"
Dele Akpata, "Tort liability in the Organisation and Administration of competitive sports in Nigeria"
Dimitrios Panagiotopoulos "At the threshold of the 21st century: Sports and the Olympic Games of Athens - 2004"
Maria L. Papathanassiou, "The Summits in 1997 demarcate the European Sports Policy"
Souri Khader, "Behavior of the punished high course athlete of team events"
Ta. Bhuvanendra "Human rights perspective of sports constituency"
Athanassios Houvardas, "Economie Politique du sport"
Index II - Jurisprudence
Council of State (Greek Supreme Administrative Court)
Overruling of the decision for the establishment of a school of Coaches (5802/1996)
Omission to approve subsidization of sports association (3802/1996)
Annulation of recognition of sports federation (5384/1995)
Contract of remunerated basketball players (3545/1994)
Transfer of athlete swimmer (2998/1994)
Areios Pagos (Greek Supreme Civil & Criminal Court)
Extraordinary General Meeting - Dismissal of the Administration of an athletic federation (340/1996)
Elections of a sports club - Legitimacy - Control (1587/1996)
Rescission of labour agreement for a "reasonable cause" (10/1995)
Greek Courts of Appeal
Paid football player - Contract of providing athletic services (Athens Court of Appeal 2813/1997)
Establishment of a federation of a sport that belongs to another federation (Athens Court of Appeal 10383/1996, 5722/1996)
Greek First Instance Courts
Validity of modifications to a sports federation's statutes (Multi-member Athens First Instance Court 576/1996)
Security measures against basketball player (One-member Piraeus First Instance Court 4356/1997)
Recognition of a sports club - Third party opposition (One-member Athens First Instance Court 28228/1996)
Establishment of autonomous sports federation that is being separated from another federation (One-member Athens First Instance Court 6458/1996)
Establishment of a federation of a sport that belongs to another federation (One-member Athens First Instance Court 3068/1996)
Paid football player - Contract of providing athletic services (One-member Athens First Instance Court 2753/1996)Invalidation of an athletic federation resolution (One-member Athens First Instance Court 1892/1995)
Security measures for the presentation of documents (One-member Athens First Instance Court 23600/1995)
A.S.E.A.D. (Greek Supreme Sports Disputes Tribunal)
Annulment of validating act of the Administrative Board of a federation (17/1997)
Greek Committees - Tribunals
Fool play participation of football player (Judicial Committee of Appeals/Football Union S.A. 162/1998)
Soccer game funs assaulting linesman (Judicial Committee of Appeals/Football Union S.A. 83/1994)
Deferment of soccer game date (Judicial Committee of Appeals/Football Union S.A. 46/1992)
E.E.O.D.A.P. (Committee for Financial Disputes of Professional Volleyball)
Fees of volley-ball players (8/1996)
E.E.O.D.E.P. (Committee for Financial Disputes of Professional Football)
Contract of a professional football player - Financial disputes (36/1996)
Index III - Sports Legislation
I. International Sports Legislation
Declaration on sport tolerance and fair play (Council of Europe, Apr. 11, 1996)
Recommendation No R (95) 16 of the Committee of Ministers to Member States of young people and Sport (Oct. 12, 1995)
Recommendation No R (95) 17 of the Committee of Ministers to Member States on the significance of Sport for Society (Oct. 12, 1995)
II. National Sports Legislation

Hellenic
1. Transfer of amateur athletes (Minist. Decree 13937/1998)
2. Basketball Societes Anonymes (Presidential Decree 207/1997)
3. Transfer of amateur basketball players (Minist. Decree 16962/1997)
4. Transfer of amateur athletes (Minist. Decree 13653/1997)
5. Sports legislation amendment (L. 2433/1996)
6. European Anti-doping Convention (L. 2371/1986)
Regulations for the transfer of amateur football players (1995)
Index IV
Scientific documentation - Timeliness - Books Review
Back