Volume 9, issues 1-2
I.S.L.R. Pandektis, Volume 9, issues 1-2, 2011, pages 1-249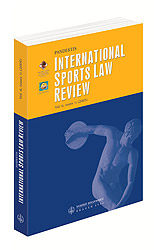 ISSN: 1109-3943

These books may be supplied by:
Hellenic Centre of Research on Sports Law (H.C.R.S.L.)
13, Veranzerou st.,
GR-10677, Athens, Greece
tel.: +(30) 210 3839440
fax: +(30) 210 3839540
E-mails: ekead@iasl.org, info@iasl.org
and
Christos Kilias
New Technologies Publications
49 A, Stournari st.
GR-10682, Athens, Greece
tel.: +(30) 210 3845594
fax: +(30) 210 3808009
E-mail: contact@newtech-publications.gr
URL: www.newtech-publications.gr
This issue of I.S.L.R. Pandektis is a special edition, including papers from the International Sports Law & Business Congress (I.S.L.B.C.), Sept. 6-7, 2010, Istanbul, Turkey.
Table of Contents - Vol. 9: 1/2, 2011
Special Issue
Tasos Kaburakis, INTRODUCTION
I. Articles
a. Papers

International Sport Law & Business Conference (ISLBC), September 6-7, 2010, Istanbul, Turkey (Guest Editor Tasos Kaburakis)

Georges Cavalier
TAXATION OF SPORTS BUSINESS: AN INTERNATIONAL AND FRENCH PERSPECTIVE
Justyna Balcarczyk

PROTECTING THE IMAGE OF ADAM MALYSZ, ROBERT KUBICA AND JERZY DUDEK - THE POLISH UNDERSTANDING OF THE RIGHT TO AN ATHLETE'S IMAGE

Stephen Argeris
BONUS BABIES AND DRAFT DODGING: RETHINKING BASEBALL'S ANTITRUST EXEMPTION THROUGH THE RULE 4 DRAFT

John η Lindholm
THE CHANGING EUROPEAN LANDSCAPE OF ANTI-DOPING FOLLOWING THE LISBON TREATY

Ricardo Gentzsch
TRANSFER OF ADOLESCENTS

Marios Daniel Papaloukas
SPORTS IMAGE AND THE LAW

Lucio Colantuoni
INTELLECTUAL PROPERTY RIGHTS IN BASKETBALL

Panagiotis D. Panagiotopoulos
THE OPINION OF THE FANS FOR SPORT JUSTICE IN GREECE

Sergios Manarakis
APPLYING THE APPLICABLE LAW THE EX AEQUO ET BONO PROVISION OF THE FAT RULES

b. Research Papers

Dimitrios P. Panagiotopoulos, Angelos Patronis
EXPULSION OF A BASKETBALL CLUB FROM THE NATIONAL LEAGUE DUE TO TRANSGRESSION OF THE GREEK SPORTS LAW PROVISIONS -THEORETICAL REVIEW AND LOCALIZATION OF THE CONSEQUENCES

Marios Papaloukas
THE LEGALITY OF THE GREEK SPORTS BETTING MONOPOLY UNDER EUROPEAN LAW

II. Jurisprudence - Case law
A. COURT OF JUSTICE OF THE EUROPEAN COMMUNITIES: OPINION OF ADVOCATE GENERAL KOKOTT
Delivered on 3 February 2011: Cases C 403 08 and C 429/08

B. COURT OF ARBITRATION FOR SPORT
CAS 2010/A/2172
0. v. Union des Associations Europeennes de Football (UEFA), award of 18 January 2011

C. DECISION OF THE FIFA DISCIPLINARY COMMITTEE
Player Tzvetomir Tchipev, Bulgaria versus Club FC Kallithea, Greece 29 March 2011 (Decision 110010 P5T GRE ZH)

III. Comments

Dimitrios P. Panagiotopoulos
KENTERIS AND THANOU CASE IN GREEK PENAL COURT

Marios Papaloukas
COMMENTING ON THE ECJ'S MARKUS STOSS DECISION

IV. IASL News

A. Iasl Congress
1. 17th IASL. Spoils Law Congres, 27-30 September 2011, Moscow, Russia
2. 18th world IASL Congress, June 28-30, Beijing, China (Implementation Scheme)

B. IASL Decisions
Annual General Assembly, 28 Nov. 2010, Seul
C. IASL Participation in Scientific activities (2011)

V. Book Review

By: Evelina Papadimitropoulou
a. Sports Law: Lex Sportiva & Lex Olympics
b. Proceedings of the 16th IASL World Congress

VI. INDEX

On IASL's web page a new area with sports law Index
For this issue:
Editor-in-Chief: Assoc. Prof. DIMITRIOS PANAGIOTOPOULOS, University of Athens, Advocate, Attorney-at-law, Greece
Associate Editor: Prof. GERARD AUNEAU, University of Toulouse, France
General Editing: EVELINA PAPADIMITROPOULOU, Candidate Dr., LL.M. (Lille) Attorney-at-law, Greece
Editorial Board
Prof. AYODEJI PETER AGBONJINMI, (Ph.D., LL.B., BL), Sport Science, Centre for Biokinetics, Sport Sciences University of Venda for Science and Technology, Advocate, Nigeria
Prof. JOHN ANTON, University of Tampa, USA
Prof. PAUL ANDERSON, Associate Director, National Sports Law Institute Marquette University Law School
Prof. BRIAN BROOKS, (B.A; M.A; LLM; Dip. Juris) Head of School of Business and Economics, Great Britain
Prof. STEVE CORNELIUS, Rand Afrikaans University, South Africa
Prof. JOSE LUIS CARRETERO LESTON, University of Malaga, Spain
Prof. JAMES NAFZIGER, University of Willamette, USA
Prof. ANDRAS NEMES, (Dr.Jur., Ph.D) Faculty of PE and Sport Sciences Head of Dept. Sport management, Semmelweis University, sport lawyer, Budapest, Hungary
Prof. DUSAN NIKOLIC, Faculty of Law, University of Novi Sad, Serbia
Prof. K. SAITO, Kobe University, Japan
Assoc. Prof. HUANG SHIXI, Law School of Shandong University, China
Prof. LUC SILANCE, University of Brussels, Belgium
Prof. PAUL SINGH, Department of Sport and Movement Studies, University of Johannesburg, South Africa
Prof. KLAUS VIEWEG, University of Erlangen-N?rnberg, Germany
Assoc. Prof. ALEXANDRU VIRGIL VOICU, Babes-Bolyai University, Lawyer, Cluj-Napoca, Romania
Prof. K. WATANABE, University of Kyoto, Japan
Prof. WANG XIAOPING, China University of Political Science and Law, Vice Director of China Sports Law Research Center, Beijing, China
Prof. KEE-YOUNG YEUN, Dongguk University of Seoul, S. Korea
Prof. LIC. KAREL LUIS PACHOT ZAMBRANA, University of Oriente, Facultad de Derecho El derecho al deporte, la Constitucion y las Normas de ordenacion Del deporte en Cuba
Prof. JOHN T. WOLOHAN, Ithaca College - Sport Management & Media, Ithaca, NY, USA.
Special Collaborators
DELE AKPATA, Director Culture, Sports and Recreation, University of Botswana
ISKANDER M. AMIROV, PhD, Head of the Theory of state and law chair of Ufa, Law Institute of the Ministry of Internal Affairs of Russia
FRANSISCO PEREZ AMOROS, PhD, Catedratique, Droit du Travail et de la Securite, Social Universite Autonome de Barcelona, Vicepresident- Iberoamericain, Institut Droit Sportif, Spain
IOANNIS ANAGNOSTOPOULOS, Advocate, Doctoral candidate at the University of Athens, Scientific Assistant, University of Peloponnese, Greece
JAKUB BASCIUK, Department of Criminology and Economic Crminal Law Faculty of Law, Administration and Economics, University of Wroclaw, Poland
Prof. GIANGIACOMO BAUSONE, Lawyer in Rome – Academic, Italy
KAREN BILL, Principal Lecturer, School of Sport & Exercise Science, University College Worcester, UK
TA BHUVANEDRA, Lawyer cum Sport Sociologist, Sri Lanka
ESTEVE BOSCH CAPDEVILLA, (Dr.) Tenured Lecturer of Civil Law Study Group on Sports Law, Revira i Virgili University Tarragona, Spain
K. KUO-I CHEN, Chinese Taipei Olympic Committee, Taiwan
JON HESHKA, Assistant Professor, Thompson Rivers University Kamloops, BC Canada
LUCIO COLANTUONI, Prof. a c. Avv. Lecturer in Civil law, Sports law, Law school, University of Milano, Italy
MANUEL J. MARTIN DOMINGUEZ, Gomez-Acebo & Pombo, Spain
J. ZAS FERNANDEX, Advocate, Uruguay
SOTELO JOAQUIN GONZALEZ, Journalist and fellow Universidad Complutense de Madrid, Spain
GEORGI GRADEV, Sport Counsel in Sofia, Bulgaria
Dr. KADIR GURTEN, Member of Ankara University Law Faculty, Turkey
S. VILANOVA HERNANDEZ, Judge of Appeal, Puerto Rico
TONE JAGODIC, General Secretary, Olympic Committee of Slovenia
Dr. AM. KUMAR, Advocate Supreme Court of India, N. Delhi, India
MIKHAIL LOUKINE, Lawyer, President of the Sports Lawyers Association, Russian Federation, Russia
RICARDO MORTE FERRER, Sports Law Center, Spain
CINTIA DE FARIA PIMENTEL MARQUES, Attorney-at-Law in S?o Paulo, Brazil
ALEXANDRE MIGUEL MESTRE, Sports Lawyer, Member of the Board of the Portuguese Olympic Academy, Lisboa, Portugal
IOANNIS MOURNIANAKIS, LL.M. (Haidelberg), Attorney-at-Law, Greece
GABRIELA AUTRAN DOURADO DUTRA NICACIO, Lawyer, Brazil
HINCA IP PANDJAITAN, Director. Ex. Indonesia Lex Sportiva Institute, Indonesia
MARILIIS PARMAS, Lawyer, Tartu University, member of the Estonian Olympic, Estonia
VITTAR EDUARDO SMITH, Lawyer, Secretariat of Sport, Argentina
Dr. KH. SOURI, Sports Scientist, Palestine
SHEVCHENKO OLGA (PhDJur), Lawyer, Senior lecturer of sports law in Moscow State Law Academy, Russia
ALDONS VRUBLEVSKIS, President of the Latvian Olympic Committee, Latvia
LINGLING WEI, PhD candidate, Bournemouth University, United Kingdom
ADEL ZERAMDINI, Lawyer, Tunisia
GONZALO BERNARDO OCHOA ZUBILLAGA, Lawyer, Iusport Bufet Juridico, Mexico
Contributors
STEPHEN ARGERIS JD, MBA, associate in the Washington, D.C. office of Willkie Farr & Gallagher LLP, USA
JUSTYNA BALCARCZYK, LL.M. Associate Professor, University of Wroclaw (Poland), Lawyer at SPCG Law Firm, admitted to the Bar in Poland
GEORGES CAVALIER, Maitre de conferences Habilite a Dinger des Recherches, Universite Lyon 3, Faculte de Droit, France
RICARDO GENTZSCH, Abogado/LawyerLLM/K, Schiller Abogados, Spain
LUCIO COLANTUONI, Prof Avv., Director of Sports Law Research Center, University' of Milan (ITA), Faculty of Law, Italy
TASOS KABURAKIS, Assistant ProfessorDepartment of Management, John Cook School of Business, Saint Louis University, USA
JOHAN LIXDHOLM, LL.D. Senior Lecturer in Law Umea University Department of Law, Sweden
SERGIOS MANARAKIS, Attorney at law, LL.M. (Edinburgh Univ.) CIArb Accredited Mediator, Greece
Avv. CRISTIANO NOVAZIO. Assistant Professor (Milano), Italy
DIMITRIOS P. PANAGIOTOPOULOS, IASL President, Associate Professor, University of Athens, Vice Rector at the Central Greek University Greece
EVELINA PAPADIMITROPOULOU, Candidate Dr., LL.M. (Lille), Attorney-at-law, Greece
PANAGIOTIS D. PANAGIOTOPOULOS, Sports Management University of Peloponnese, MBA Economic University of Athens, Greece
MARIOS-DANIEL PAPALOUKAS, Lawyer, Assistant professor of Sports law, University of Peloponnese, Greece
ANGELOS PATRONIS, (LL.M.) University of Athens, Advocate, Attorney-at-Law, Greece
MARIA TZAVELA (LL.M.) University of Athens, Advocate, Attorney-at-Law, Greece
Important: The content of the current issue of ISLR/Pandektis is available in a PDF version, in the topic "LIBRARY AND DOWNLOADS" in the subtopic "e-books", to any member that has paid it's annual membership fee. Download
Back