10th Congress Proceedings
Sports Law Implementation and the Olympic Games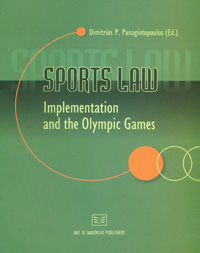 Editor: Dimitrios P. Panagiotopoulos
Publisher : Ant. N. Sakkoulas
© Copyright 2005, Editions Ant. N. Sakkoulas
25-27 November, Athens, 2004, "Sports law Implementation and the Olympic Games". Organised by The International Association of Sports Law (iasl) and the Hellenic Center of Research on Sports law (h.c.r.s.l.), with The co-operation of The National and Capodistrian University of Athens.
The Sports Management Department, University of Peloponnese - The Athens bar Association - Under the auspices of:
The Hellenic ministry of Education
The Hellenic ministry of culture - general secretariat for the Olympic Games
The international Olympic academy (ioa)
The municipality of Athens University of Athens
Topics
Sports institutions and sport law
National sports legal Systems
European Law and Sports Activities
Resolution of sports disputes
Sports Disputes and Sport Justice
Sports Jurisdiction and Fair Trial
Sports law and the olympic games
Conventional, Economical, and Political Aspects of the Olympic Games
Bibliography
Official congress languages: Greek, English, French
Click here to view the table of contents.