11th International Congress on Sports Law
The 11th IASL Congress has successfully taken place in Johannesburg, South Africa, on 28 – 30 November, 2005 dealt with the general topic: "Fighting Abuse in Sport".

The various topics for discussion are:
Child Abuse in Sport
Unfair Discrimination
Hooliganism
Ambush Marketing and Commercial Exploitation of Athletes * Match Fixing, Corruption and Economic Crime
Doping, Drug Abuse and Genetic Manipulation
Politics and sport

Resolved , On November 30, 2005, that the 11th Congress of the International Association of Sports Law (IASL) concludes with deep gratitude to the Sports Law Association of South Africa and the Faculty of Law and Centre for Sports Law of the University of Johannesburg. Together, these two organizers have extended in the Congress their professional expertise, administrative competence, physical facilities, and extraordinary South African hospitality, to our lasting benefit. On the theme of "Fighting Abuse in Sport," we have heard dynamic presentations on children in sport, discrimination in sport, doping of athletes, regulation of sport, ethical aspects of sport, social responsibilities of sports bodies, commercialism in sport, hooliganism and other violence in sport, security and safety in sport, and corruption in sport. Just as importantly, we have had the opportunity to meet each other, to talk with each other, and to realize the diversity of our backgrounds, perspectives and views related to our mutual love of sport and commitment to the advancement of sports law. We have come to appreciate that we are all part of the same team, whether we are students, teachers, practicing lawyers, sports officials, or government employees.

Further resolved, That this Congress express its appreciation to Dr. Sam Ramsanay, South African member of the International Olympic Committee, for his superb remarks to the Congress and his commitment to help forge ties between the IASL and the IOC.

Finally, resolved, That the IASL reconvene for our 12th Congress at approximately this time next year in Ljubljana, Slovenia.

We hope to see all of you there!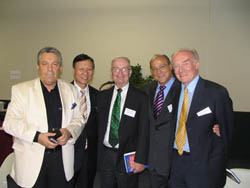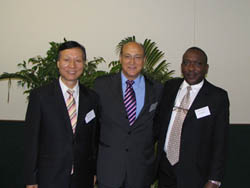 11th IASL Congress, Johannesburg 2005