8th International Congress on Sports Law
Montevideo - Uruguay, November 28-30, 2001
---
The 8th IASL Congress has successfully taken place in Montevideo, Uruguay, on November 28-30, 2001 dealt with the general topic:
"Professional Sport Activities".
It was organized by:
The International Association of Sports Law
Ministry of Sport and Youth of Uruguay

The sessions dealt with the following topics:
1. Sport management
2. Different organizational forms of sport entities
3. Arbitration as a device for the settlement of disputes in sport
4. Sportsmen's rights (sports and children's rights, transfers and right to work, the image right)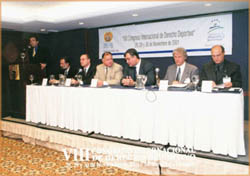 8ht IASL Congresss, Montevideo 2001

The proceedings of the Congress have been undertaken by IASL. The proceedings are not published up to now.

The Findings of the Congress are to be included in the following IASL Bulletin Information.
For further information please contact IASL.