General Information
Place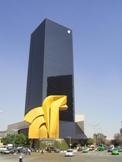 The Congress will take place in the main auditorium of Torre Caballito, which is the place that members of the Senate of the Mexican Republic work in these offices, from Wednesday 14 November to Thursday 15 November 2007.

Address:
TORRE CABALLITO
Paseo de la Reforma No. 10
Col. Tabacalera CP 06030 México, D.F.
---
Important Dates
October 12th, 2007: Deadline for receipt research & investigations.
October 24th, 2007: Selection of research & investigations.
November 13-16, 2007: 13th International Congress on Sports Law
---
Congress Main Topic
General Congress topics:
Sports Legal Order.
Sports Law Regulation.
National Sports Law.
Conflicts of Sports Jurisdiction.
Arbitration of Sports Disputes.
Violence and Racism in Sports.
Doping. * Professional Sports (contracts, etc.)
Sports Law Cases.
The Congress languages will be English, French, Spanish and Greek.